The Robotturn® Challenge
Your market in the metalworking industry has changed significantly in recent years
Your customers are more demanding than even before. They expect you to supply at cheaper prices, but they also demand smaller series and faster delivery times. At the same time, you must deal with rising labour costs, more competitors and a lack of CNC operators. To counter this difficult market evolution Robotturn® offers you an affordable high effective solution : "flexy cell".
Robotturn
Boosting your profit!
HIGH PRECISION CNC TURNING CENTERS
No compromise on quality!
Packed with industry leading technology and top-quality components, the Robotturn® X-series flexy cells combine power, strength, and speed to bring you the Ultimate Machining Power. These high speed machines will easily accomplish the demanding turning applications of today and tomorrow. Furthermore, with available live tooling and C-axis capabilities; milling, turning applications may be completed in one single machine.
The new design provides smooth chip disposal and easier operator access. Steel way covers and special steel wipers moulded with industrial strength rubber are used for durability. Fully enclosed splashguards keep chips and coolant contained for a safe clean working environment. The auto lubrication system delivers metered amounts of lubrication to the slide ways, ball screws, and vital components. Distribution is automatically shut off during idling to prevent waste.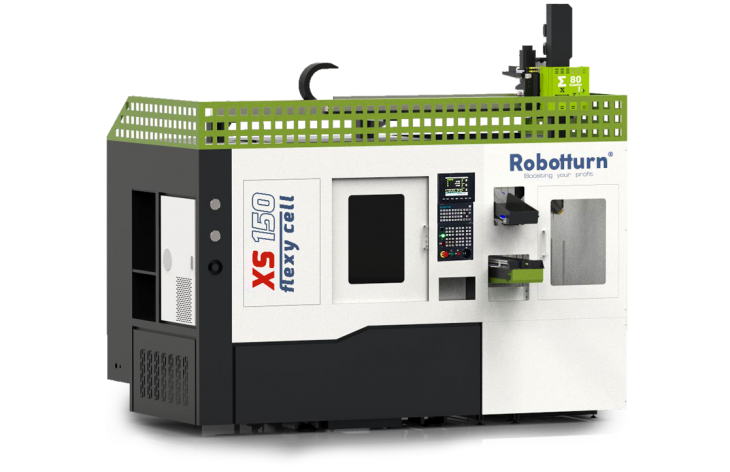 Robotturn Flexy-cell
TURNING CENTER W/ INTEGRATED AUTO-LOADER 
Our new generation compact turning machines incorporate a wide range of enhancements that make Robottturn® lathes better than ever. Our engineers reviewed and improved all aspects including motion control, integration of automation systems for material handling, coolant containment, chip evacuation, ergonomics, and serviceability – to create the highest quality, most reliable machine tools available.
High Performance combined with compact design
High flexibility: bar and chuck work
Option for automation peripherals and software designs to meet any need.
By keeping all the things simple, we can control our cost better than whoever.
Robotturn machines offer one-source integrated automatic turning.
Each machine is factory automated to deliver the highest accuracy and repeatability while minimizing set-up time. This allows Robotturn to provide compact solutions with the greatest efficiency today and the flexibility needed for the jobs of tomorrow.
What does this button do?
Is this your operator's daily problem?
Is this not a question your machine operator is daily confronted with?
Perhaps you recognize the complex controller shown here?
Perhaps you find it scary to look at, let alone interact with?
It clearly radiates a complex and technical nature of interaction and understanding.
You most likely need extensive training to control that thing - right?
Time for a change
Robot graphic HMI - Human Machine Interface
We defined that any CNC operator should be able to use our Robotturn. Our concept is meant to make robotized turning cells more accessible and affordable. The complex pendant controller every robot maker is using is a huge bottleneck in that paradigm. The challenge consisted of redesigning the interface of the Robot. Rather than a pendant with hundreds of unknown buttons, that has been the standard since forever, we took a very innovative decision to use an interactive touchscreen with very simple graphic interaction, to control the robot-loader and kept the Lathe controller as standard. This means that the lathe can be used as standard CNC machine to make one single piece manually without interaction of the robot. All possible loading-unloading cycles are pre-programmed and the operator need only to fill in some of the values of the different stop/start points in the graphic interface. Simpler is not possible!
No robotics experience is required for the graphical robot controller. Our robot is already completely pre-programmed, so that the operator only needs to enter a few parameters. This means a new series can be started in a matter of minutes.
Only the best brands in CNC controllers
As a CNC controller is the heart of a production machine, reliability is the most important factor today. Robotturn® selected the 3 most reliable suppliers on the market today to serve our robotized turning cells. Fanuc and Siemens as the most sold controllers in the world and Syntec as the best value in the market, fully stuffed with all the thinkable options. Our Standard machines are equipped with the high speed Syntec TA controller with 500/1000 block ahead reading function, all turning cycles, high speed computing, graphical interface, mechatrolink® serial bus, etc. Syntec, based on long term OEM production for major Japanese CNC makers, offers a reliable high quality and a great value for money CNC package, including many more options than any other maker for which you must not pay extra.
Unlimited layout variations
Robotturn flexy-cell
More info on this product?
West Europe :
Call +32 475.736.351 - Patrick (Nederlands, Français, English, Deutsch )
East Europe :
Call +40 722.346.170 - Cézar (English, Français, Română)
or call +40 755.088.805 - Catalin (English, Română)